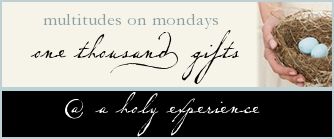 Oh my. Spending most of my computer time over at Ann Voskamp's blog A Holy Experience.
You should go over there. And, read. Be encouraged. Join me in the challenge of reading Colossians in a year with her. Join the FB group.
Read her new book One Thousand Gifts. Join the book club. Read all about it all on her blog.
Being renewed this weekend. Can't wait for next weekend, when I get to go on a retreat with a sweet friend that I haven't seen in way too long.
May His Peace be yours today!